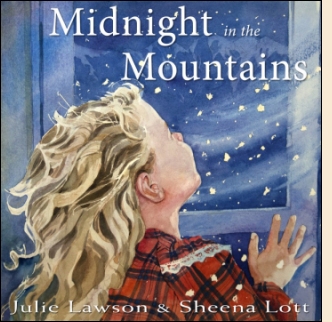 Illustrated by Sheena Lott
Crow Cottage Publishing
Now available as an interactive and audio enhanced iBook, narrated by the author.
In a joyful celebration of both the mountains and winter, a young girl recounts and anticipates a memorable family holiday.

Reviews
Julie Lawson's poetic text and Sheena Lott's lovely watercolours make this book a spectacular success.
MacLean's Magazine
A perfect story to share on a cold winter's night when you can hear the "crackle of stars."
Calgary Herald
This is a beautiful book. The language is simple yet lyrical, perfectly conveying the meditative mood of the story … Sheena Lott's stunning watercolour illustrations match the impressionistic mood of the text. This is a book for young and old, but particularly for those who love mountains, midnight and snow.
Quill and Quire

Where to Buy this iBook
Midnight in the Mountains is available on iTunes.


Other Enhanced Audio iBooks coming soon!