AVALANCHE!

Between 1885 and 1911, over 250 men died in avalanches in the Selkirk Mountains of BC, most notably in Rogers Pass. The worst incident happened at the summit during the night of March 4, 1910. A crew of railway workers, headed by Roadmaster John Anderson (who would later become my grandfather), was clearing the tracks of an earlier avalanche when it was struck by a second —an avalanche off Avalanche Mountain, from the opposite side of the valley. All but one man perished.

The Goldstone Trilogy is a set of three inter-connected novels based on the 1910 disaster. Read as a group, in any order, or as stand-alone novels.


Snow avalanche, Glacier National Park, Canada
© Parks Canada/John G Woods





Fitzhenry and Whiteside
ISBN: 77375891-7

Silver Birch Award Finalist

A shiver passed through her, but not from the cold.
As if for one silent moment she shared a secret with
the mountains. A watch over the still-sleeping town …

Mama's old-country ways are a source of frustration and embarrassment to twelve-year-old Karin Anderson who wants her mother to speak English, not Swedish, and act like a Canadian. How can she know that the harsh words between them will be the last? With shocking swiftness Mama is gone, and Karin longs to be with her again. And when Mama's precious goldstone pendant is found, can Karin interpret the dreams that come to her whenever she wears it at night? Does the stone really forecast the future? When it warns Karin of the deadly avalanche that threatens her father and his railway crew, will she be able to prevent another disaster? This poignant and suspenseful tale is based on real events in Rogers Pass, British Columbia, at the turn of the century.





Violet Downey IODE Award, Shortlist

In my family, there's a story that gives me the
shivers. Whenever my dad hears it, he says,
"that's life. It can turn on a dime."

Little does Jo know how true her father's words will turn out to be.

The theme of the avalanche and its effect on the Anderson family continues in Part 2 of the Goldstone Trilogy, but focuses on a different generation. Twelve-year-old Jo is the granddaughter of John Anderson, and her story is set in Victoria, BC in 1957.

Jo's world is spinning too fast. Her best friends, with their shifting loyalties and unexpected cruelties, have left her behind. All they care about is Elvis, rock n' roll, and boys. And her adored next-door neighbour, sixteen-year-old Mack, has betrayed Jo's trust and friendship. If it weren't for Michael, whose family has newly arrived from England, Jo wouldn't have a friend in the world.

But when Michael is faced with a choice between Jo and his peers, will he take her side? Jo fears the worst, only to discover that the worst comes from an unexpected source. When she learns that Mack is pregnant, and planning to give the baby up for adoption, she accidentally discovers a carefully kept secret — that she herself was adopted. Feeling betrayed by everyone, it takes a near crisis, a special family story, and a mysterious goldstone necklace for Jo to accept who she is, and to treasure the relationships that have brought her happiness.

Fitzhenry and Whiteside
ISBN: 77375942-5





Fitzhenry and Whiteside
ISBN: 77376091-1

Silver Birch Award finalist
Red Cedar Award finalist

Part 3 of the Goldstone Trilogy returns to the mountain setting of Goldstone but moves forward to 2000 and to a member of the third generation -12-year-old Ashley.

For her twelfth birthday, Ashley receives a special gift from her Aunt Jo - a goldstone necklace that has been in the Anderson family for nearly a century. Her aunt also sends along some prophetic words: I got the goldstone at a time when I needed something special. I wore it for years never thinking it was more than a beautiful pendant and a link to the past. Later I learned that the goldstone is also a link to the future. Wear it at night, and you'll see what lies ahead.

Ashley is enchanted by the stone, and cannot resist dreaming about her future. But fate has brought Ashley much more than the goldstone. When she wears her gift, a presence deep within the glacial mountains is awakened. A boy named Jonathan, who has transcended the bounds of time, begins to stalk her. He too dreams of the future, and has foreseen the moment when he can reclaim the stone and fulfill a promise made long ago. To do that, he must first lure Ashley into the ghostly world between life and death.

The Story Behind the Stories

Most people have a "What if?" family story that they can relate to, where a twist of fate determines their very existence. In my case, it was a matter of timing. Here's the story that inspired me to write Goldstone.

In the early 1900s, my grandfather John Anderson was a Roadmaster for the Canadian Pacific Railway in the Selkirk Mountains of BC, a region notorious for the heavy snowfalls.

The winter of 1910 was especially severe. On the night of March 4, an avalanche roared down Cheops Mountain and buried the tracks thirty feet deep at the summit of Rogers Pass. Anderson and his crew, already exhausted after several straight days (and nights) of snow clearing, went out to the site and got to work. Armed with lanterns and torches, picks and shovels, the men descended into the cut made by the snow plough, intent on clearing the tracks before morning. Around about midnight, Anderson left the site to phone in a progress report. He returned to discover that another avalanche had come down from Avalanche Mountain and buried everything.

Only one voice answered his call for survivors. Fifty-eight men lost their lives, including Anderson's younger brother, my Great-Uncle Charlie.

As a child I was haunted by that story. I still am. What made my grandfather leave the site to phone in his report at that particular time? If he hadn't acted when he did, my mother would not have been born and I wouldn't be here to write about it. So I'm grateful for my grandfather's sense of timing.

The avalanche story started as a picture book and underwent numerous revisions — and rejections. My editor suggested that the subject matter would work better as a novel.

My first draft of the novel was too long for one book, and took place largely in the 1950s with flashbacks to the avalanche story. So I proposed a trilogy. Same family, different generations.

After the first two books were published I had to think of a third. My first draft, with a Victoria setting, wasn't going that well until my dad suggested I take the story back to the mountains.

I liked that idea. I started wondering about the goldstone itself. Where had it come from? What gave it the magic?

The questions led to Jonathon, the ghost in The Ghost of Avalanche Mountain. It also led me to the night of the avalanche and to the crewmen who had been buried. What if one of the men had made a promise he was compelled to keep? What if that promise concerned the goldstone?

Of the three books, The Ghost of Avalanche Mountain turned out to be the one I enjoyed writing the most. It was exciting to write it, because I never knew what was going to happen next. Jonathon had never been planned, and the idea of having him actually working on the crew and getting buried by the avalanche had never crossed my mind. He just kind of appeared on my computer screen and I was hooked.

Who knows where ideas come from?

The best thing about writing? Magic happens!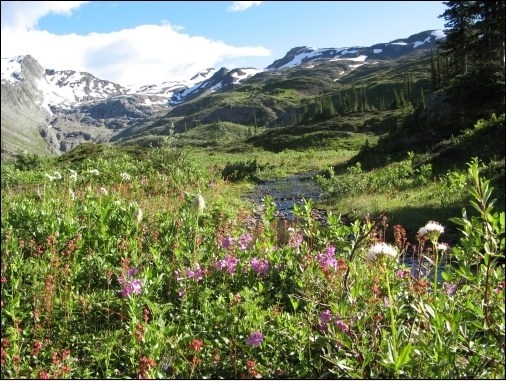 Alpine meadows in the Selkirk Mountains, where my
Goldstone characters like to hike. (Me too!)
Reviews

Based on actual events, Goldstone makes for a suspenseful and entertaining read … particularly effective are the descriptions of the avalanches and their physical and emotional impact on survivors and landscape. With the recent onslaught of natural disasters, this novel … has timely relevance.

Booklist




Turns on a Dime … multiple themes of family relationships, peer pressure, friendship and betrayal. The book's narrative, which moves smoothly from beginning to end, successfully combines humour and drama that will keep readers entertained. Highly recommended.

Canadian Book Review Annual




Numerous references to the 1950s add to the setting and give a historical framework to Turns on a Dime. The solid characterization, well-paced plot, and Jo's journey of discovery will appeal to readers. Jo is markedly naοve and impetuous in keeping with the conservative but changing tenor of the times. While the mystique of the goldstone pendant continues from the first novel, Turns on a Dime can stand alone as a complete, satisfying coming-of-age story.

School Library Journal




In The Ghost of Avalanche Mountain Lawson neatly intersects past and present, historical fact and clever fiction … the plot — two people, one out of time, heading on a collision course toward each other - is compelling … A fine conclusion to the Goldstone Trilogy and a satisfying read on its own.

Quill & Quire

Where to Buy these books

Titles in the Goldstone Trilogy are available:

1. at your local bookstore or children's bookstore.
2. by placing an order with your local bookstore or online bookseller.
3. directly from the publisher, Fitzhenry and Whiteside. (1-800-387-9776)